About Us
Silverware2wear is handcrafted jewelry that repurposes silverplate knives, forks and spoons otherwise unused, stored in a box at your Grandmother's home.  We primarily make necklaces, bracelets, rings and earrings. We can make tablecloth holders from knives, key holders for your purse, eyeglass pins to hold your readers in a more southern refined manner, key rings and charms. The ring pictured on the right is actually my wife's monogramed baby spoon that she can now enjoy daily.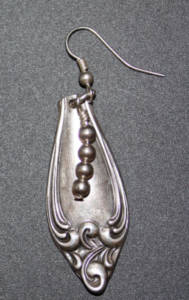 We live in NE MS but the world is our home
I am a novice jeweler finding a new passion in retirement
I am teaching myself and learning how creative i really am
We want you to love your jewelry as much as I did making it so if you are not satisfied, we will refund the purchase price
I will adjust any ring or bracelet to fit you
Custom jewelry is also a wonderful option. Send me your silver and I will make you a keepsake to wear forever.
Please contact Mary on FB, use my email address or  via the Contact US page to place an order.